Services

Onsite Technical Support - Home & Small Business
PC & Mac - we service, repair all makes and models
Virus Removal
Computer Repairs * Servicing * Upgrades
Data Recovery - deleted data, formatted drives, failing hard drives
Data Backup
Windows * Mac OSX Installation
Network Support - Home & Small Business
Consultation & Training
Remote Technical Support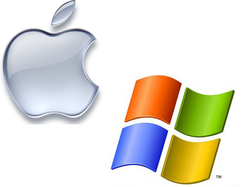 PC & Macs

We repair, service and upgrade Personal Computers - Desktop, Laptops, Servers as well as Apple Macs - iMac and MacBooks.

No matter which type or make you have, a computer should be serviced regularly to not only keep it at peak performance, but it can help extend the life expectancy of a machine.

There are many things to consider when purchasing a computer, one of the most important questions you should ask yourself is, not just what am I going to use it for now, but if you have any plans to start using the machine for something like photo or video editing, something that requires a decent graphics card, memory and storage space. But if the computer you want is too expensive with all the bells and whistles, look at buying a model that, has the ability to be upgraded over time. This also gives you "future protection" - the ability to support new software and technologies when they become available.

If it is a business or will be used for business, what operating system do I have or need? What software will I need? Are my peripherals compatible with my system? Is my software compatible with my operating system? Do I have adequate security?

These questions may seem obvious at first, but when you are upgrading or replacing a computer, it is surprising how relevant all of these become, especially in a business environment.

There is also the protection of children to consider, knowing that your kids can go online and they are safe. Security software can be installed to allow monitoring of usage, sites accessed, being able to block sites that you don't wish them to access.

At ALBA Tech Solutions, we pride ourselves in helping our customers choose what is right for them and not pushing them towards a machine that is unsuitable for their needs. Asking the right questions and understanding our clients is critical to providing the best service.



---
---
Virus Removal
This is an area that has grown rapidly in the last few years due to the increase in Spam, Fraud and Data Theft, although viruses seem to have been around since the beginning of time. Getting a virus now is a bit like going to buy a cup of coffee, the size, type and flavour depends on its source, how its delivered, what its designed to do, the payload and the fall out.
A "virus" is a generic "catch all" term for a computer infection, but what you are dealing with is a wide a varied spectrum of codes that are programmed to carry out a specific function.
When we clean a machine we ensure that we get the root cause, not the symptoms. We use multiple programs to ensure we get "all" the infections and not just some. Even one virus missed, is a "virus too many". The damage from a virus varies so greatly, and its dependant on the type, software installed and also how long a virus has been there. A virus can lie dormant in a machine waiting for a specific event or time to detonate.
Types include: Trojans, WORMS, Scareware, Ransomware, Spyware, Boot Sector, Redirectors, HiJackers, Polymorphic Viruses, Multipartite Virus, Macro Virus, the good old File Virus and the list goes on....
One of the biggest misconceptions with regards to viruses, is not the virus itself, but that Apple Macs can't get viruses, or Linux for that matter. The explosion of Macs, Tablets, Smartphones and most internet enabled devices, has given the virus writers the impetus to design malicious codes for these devices - always consider some kind of virus protection for your PC, Mac, Tablet, Smartphone etc.
Signs that you may have a virus:
System slows down dramatically
System becomes erratic
Can't install or uninstall programs
System crashes or freezes
Files appearing or disappearing
Pop-ups telling you your computer has issues and wants you to buy something
Locked out of your account
Drives on your system disappear
Can't back up/transfer files on your system
Strange messages appearing when trying to open programs
Friends or colleagues receiving emails from you that you haven't sent
Computer Repairs: Servicing - Upgrades - Laptops - Servers
There are many reasons a computer can stop working, but having it serviced regularly can help prevent issues and keep your machine running correctly. Servicing is not just about tuning a system, it is identifying unknown issues, potential issues, accidental damage, part failure, part replacement.
Other issues may include upgrading - new video card, bigger power supply, more memory, bigger hard drive, laptop screen replacement etc
Computer Maintenance: Tune up, Clean up, Boot up Optimization, Software Conflict solving, Speed and Performance Configure & assist with your Email/Internet/Microsoft Office/Windows/Others
Locate and remove running viruses
Identify and eliminate spyware applications
Install new software programs on your computer
Help with system or program settings
Software upgrades & patches
Help with hardware installation/configuration
Solve windows errors & computer glitches
Troubleshooting/diagnostics
Assist with your printer or other peripheral devices
Increase the security of your Internet connection
Hours of Business
*Monday to Friday
9.00 AM to 5.00 PM
**Closed Saturday & Sunday

*Services requested outside of normal working hours are charged at an increased rate.
**Emergency Call Out Service is available (additional charges will apply).